CT EXECUTIVE SEARCH RECRUITS EXECUTIVES IN INDIA
India has emerged as the fastest growing major economy in the world and is expected to be one of the top three economic powers in the world over the next 10-15 years.
India is an important export market for many international companies in the capital and consumer goods sectors. At the same time, the country is fast becoming a production location, with local and international companies manufacturing goods for the rapidly growing domestic and international markets.
Indian companies are also gaining global recognition in sectors such as IT and pharmaceuticals.
Recruitment to Executive Positions in India
At CT Executive Search, we help international companies based in India find the best available candidates for management positions.
We cooperate closely with our partners in Mumbai to make sure that the candidates selected can thrive in a multicultural environment.
In India, we recruit both locals and expatriates to fill top management positions. Already, we have an extensive pool of Indian and expatriate candidates for companies to consider.
We work with medium sized companies and large corporations, specialising, among others, in mechanical and plant engineering, consumer goods, retail, and the automotive sectors.
Do not hesitate to Contact us if you would like to receive a consultation on recruitment or any other HR related issues in India.
News from India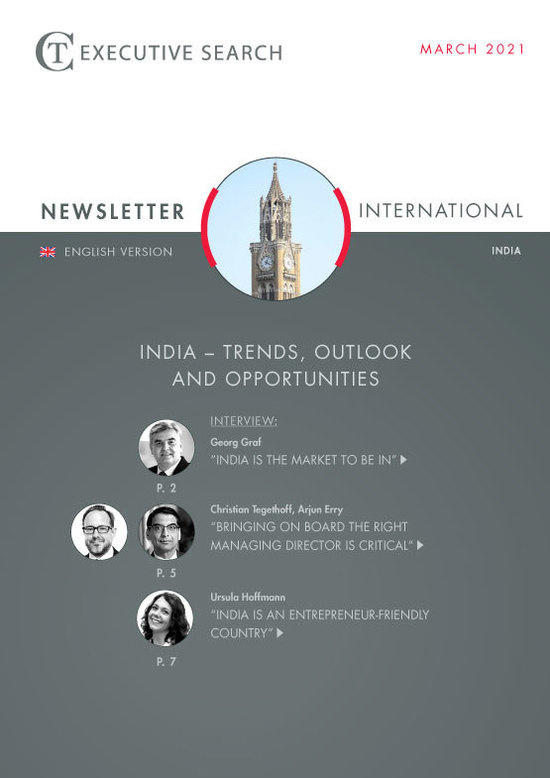 Issue March 2021
Trends, Outlook and Opportunities
Interview: "India is the market to be in"
Interview: "Bringing on board the right managing director is crucial"
Interview: "India is an entrepreneur-friendly country"