Recruiting executives in the Gulf Region & Middle East
Dubai and the United Arab Emirates are the undisputed economic center of the Gulf region. They house the regional sales hubs of many international companies in the investment and consumer goods, healthcare and retail sectors.
In Dubai, and to a lesser extent in Abu Dhabi and Qatar's Doha, millions of expatriates work from Europe, Asia, Africa and Australia. Due to the enormous increase in purchasing power in recent decades and the massive investments in real estate and infrastructure, the Gulf States are of utmost interest to companies in the consumer goods sector, the construction-related sectors and the oil and gas supply industry. The same applies to healthcare, professional services and other sectors that benefit from the consumption power of state and private players in the region.
Executive Search in the Gulf Region/ Middle East
CT Executive Search focuses on recruiting executives across the Gulf, including the United Arab Emirates, Qatar and Saudi Arabia.
Due to the regional specificity - the Gulf states are especially interesting as sales markets for many international companies - we are primarily concerned with recruiting into sales&marketing-related positions here.
Our team also has excellent knowledge of the Iranian market, where we have placed a variety of positions following the conclusion of the nuclear agreement.
CT executive search not only works for international clients, but also assists Emirati, Qatar and Iranian companies seeking to recruit expatriates. We cultivate a network of specialists across the Gulf region and the Middle East, who in addition to professional skills also have the intercultural competencies necessary for such tasks.
Our Partners in the Gulf Region/ Middle East
Our clients benefit from the resources and infrastructure of the legal and business consultancy MENA Legal, which is present in Dubai, Ras al Khaimah, Doha and Riyadh. Our partner MENA Legal offers a comprehensive portfolio of services, which include payroll outsourcing as well legal consulting and market analyses.
We also work closely with the consulting firms Persia Associates and Persia Consulting in Tehran.
Please find additional information on executive search, expatriate matters and doing business in the Gulf Region & Middle East in our newsletters.
You are interested in the Gulf region and the Middle East? Contact us.
News from the Middle East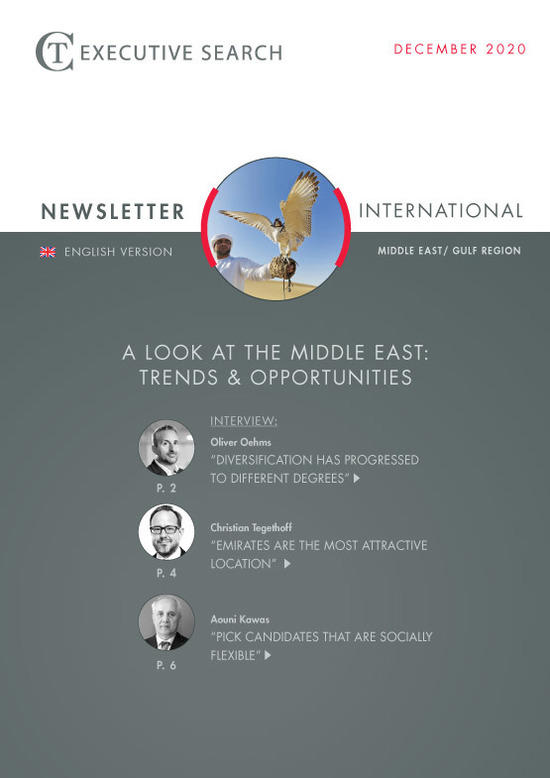 Issue December 2020
A Look at the Middle East: Trends & Opportunities
Interview: "Diversification has progressed to different degrees"
Interview: "Emirates are most attractive location"
Interview: "Pick candidates that are socially flexible"