CT EXECUTIVE SEARCH RECRUITS EXECUTIVES IN INDIA
India has emerged as the fastest growing major economy in the world and is expected to be one of the top three economic powers in the world over the next 10-15 years.
India is an important export market for many international companies in the capital and consumer goods sectors. At the same time, the country is fast becoming a production location, with local and international companies manufacturing goods for the rapidly growing domestic and international markets.
Indian companies are also gaining global recognition in sectors such as IT and pharmaceuticals.
Recruitment to Executive Positions in India
CT Executive Search supports international companies in filling executive positions in India. Our partner Sonal Thakker is responsible for project management in India. Ms. Thakker and her Mumbai-based research team have successfully completed numerous assignments across the country and maintain close access to the local talent pool.
In addition to professional qualifications, the intercultural fit is also of great importance in India - candidates are therefore usually evaluated by an Indian and a European consultant.
In India, we recruit both locals and expatriates to fill top management positions. We have an extensive pool of Indian and expatriate candidates for companies to consider.
We work with medium sized companies and large corporations, specialising, among others, in mechanical and plant engineering, consumer goods, retail, and the automotive sectors.
Do not hesitate to Contact us if you would like to receive a consultation on recruitment or any other HR related issues in India.
India Partner
Sonal Thakker, Mumbai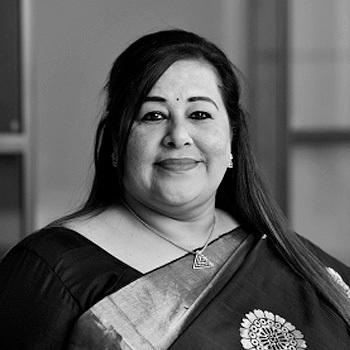 Based in Mumbai, Sonal manages the Indian operations for CT Executive Search. She works mainly in the industrial sector, focusing on assignments in manufacturing at large. Sonal has in excess of 15 years Executive Search experience over her 25+ year career, and was last associated with 3P Consultants as a Partner.
She has successfully delivered several CXO mandates for start-ups, SMEs and Indian conglomerates across the chemicals, agrochemicals, fertilizers, engineering, food, and healthcare sectors. Her specialization includes Strategic Consulting, Key Account Management and Succession planning. She has worked across multiple geographies including the Middle East belt.
Prior to moving to the Executive Search industry, she spent her initial decade in corporate roles, managing the Finance function. Sonal is a graduate from the Mumbai University and has completed her PGDBM in Business Management and is also an Inter Cost Accountant.
Senior Advisor
Georg Graf, Bangalore
Georg Graf is Freudenberg Group's Regional Representative for India. With almost 3,000 employees at 50 locations, Freudenberg is one of the largest European investors on the subcontinent.
Mr. Graf has over 35 years of experience in the management of operational business units in Europe and Asia. He joined the Freudenberg Group in 1992 and moved to India in 2008. Since 2013 he has been responsible for the Freudenberg Regional Corporate Center in Bangalore. In 2016 he became a board member of the Indo-German Chamber of Commerce. From 2018 to 2020 he served as the association's Vice-president and then President.
Georg Graf has extensive expertise in the areas of finance, accounting, and project management. In addition, he has excellent intercultural skills from his many years of experience in the German-Indian business.
Mr. Graf supports CT Executive Search with his large network in the European-Indian business world and his knowledge of doing business in India.
News from India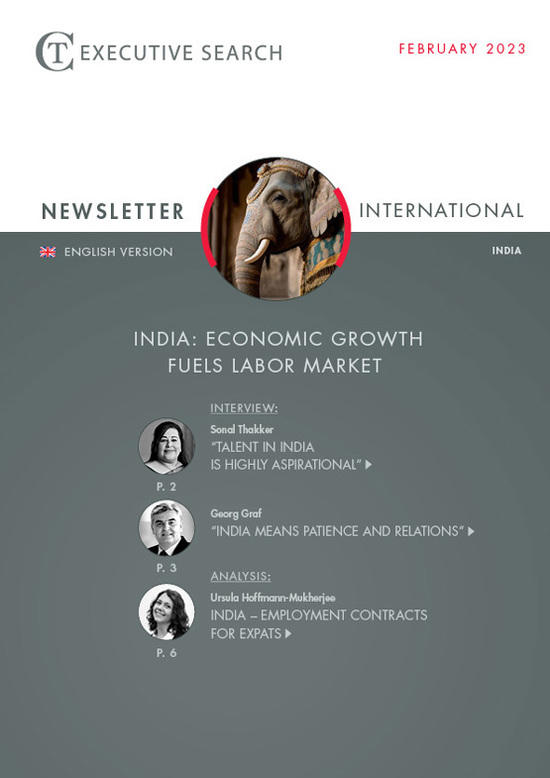 Issue February 2023
India: economic growth fuels labor market
Interview: "Talent in India is highly aspirational"
Interview: "India means patience and relations"
Interview: "India - employment contracts for expats"