CT Executive Search recruits Executives in Eastern Europe
Several countries in Eastern Europe have been firmly integrated into international supply chains for decades. Countries such as Poland, the Czech Republic, Slovakia, Hungary, and Romania are important production sites for Western European and American companies, which benefit from favorable conditions and well-trained, highly skilled personnel. The same applies to Turkey, which has become a production hub for international companies due to the customs union with the EU.
Companies from practically all manufacturing industries are represented. However, the automotive, consumer goods, pharmaceutical, construction, and mechanical engineering sectors are especially active throughout the Eastern European region. Growing purchasing power in Eastern Europe has also made the region an important destination for international retailers.
Today, Poland and the Czech Republic, in particular, as well as Hungary and the Baltic republics house local companies that are no longer only successful in their home markets. Whether Latvian IT companies or Polish retailers, many Eastern European companies are now expanding to Western Europe.
CT Executive Search supports international companies in recruiting executives for their Eastern European locations. In line with the deep integration of Eastern Europe into the supply chain, many of our assignments are production-related.
EASTERN EUROPE: RESEARCH WITH HIGH INTERCULTURAL EXPERTISE
Eastern Europe is characterized by its diversity of languages and cultures. German and English are common as business languages; however, the approach and evaluation of potential candidates must take into account local linguistic and cultural pecularities.
CT-Research, therefore, works i.a. with Polish, Hungarian, Russian, Turkish and Bulgarian native speakers who are familiar with the respective regional subtleties.
Contact for CEE & Turkey
Natalia Bichevina
Natalia Bichevina coordinates our research activities in the CEE region and Turkey, and is the contact person for candidates approaching CT Executive Search on their own initiative.
She has supported a large number of executive search assignments in Eastern Europe and has been particularly active in the production and service sectors.
Before joining CT Executive Search, Natalia worked for Neumann International in Sofia and for Kienbaum.
She holds a master's degree in International Business and Management from the Osnabrück University of Applied Sciences.
In addition to Bulgarian, which is her native language, Ms. Bichevina is fluent in German, English, and Russian.
Senior Advisor Turkey
Dr. Markus C. Slevogt
Dr. Markus C. Slevogt is a board member of the Turkish family company Erciyas Çelik Boru A.Ş. (manufacturing, energy, services) and independent board member in AkçanSA, a stock exchange-listed joint venture between HeidelbergCement and Sabancı Holding. He is also a board member of the consulting firm Amarkon Group and acting president of the German-Turkish Chamber of Commerce and Industry (AHK). Dr. Slevogt lives in Istanbul.
Dr. Slevogt has relations with Bahçeşehir University, where he is a member of the Faculty of Economics, Administrative and Social Sciences and director of the Finance Research Center. From 2015 to 2021 he was a board member of the Bahçeşehir Graduate School of Business.
Dr. Slevogt is also a member of the Turkish industrial association TÜSİAD, where he held the position of Vice President TÜSİAD International for several years.
Dr. Slevogt came to Turkey in 1999 as a representative of Deutsche Bank AG and then headed the wealth management business of ING Bank Turkey as Managing Director. Since 2012, Dr. Slevogt held various board memberships, including the Turkish subsidiaries of the Vaillant Group and BSH Bosch Siemens Hausgeräte.
Dr. Slevogt holds a business diploma from the University of Kent at Canterbury (UK), a Postgraduate Diploma in Advanced Management from ESMT - European School of Management and Technology, and a Masters and PhD degree from the Faculty of Business Administration at Philipps University in Marburg.
News from Eastern Europe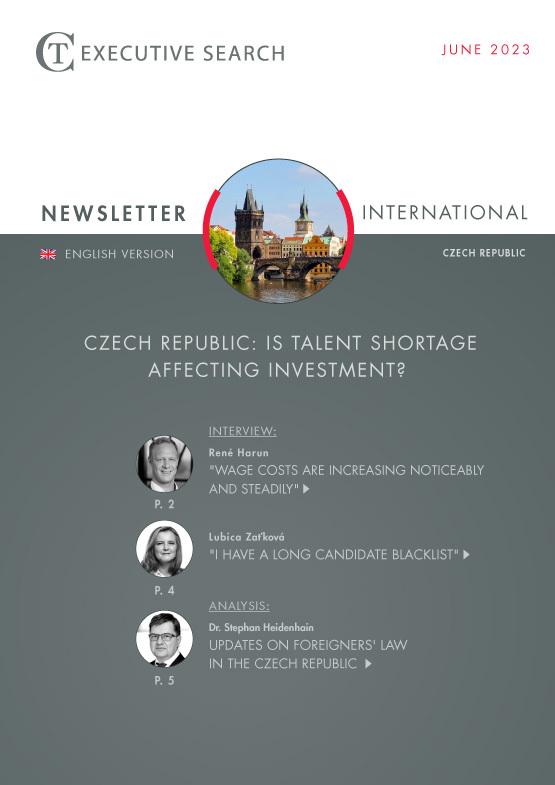 Newsletter Issue June 2023
Czech Republic: is talent shortage affecting investment?
Interview: "Wage costs are increasing noticeably and steadily"
Interview: "I have a long candidate blacklist"
Analysis: Updates on foreigners' law in the Czech Republic