CT Executive Search Recruits Managers in China
China, the second largest economy in the world, has developed into one of the most important business locations for many European companies. The country is not only a major export destination but also serves as an important production site for the supply of the global markets. China has a well-developed supplier landscape in practically all industries, as well as an experienced and highly skilled workforce, especially, in the manufacturing sector.
Executive Search in China
CT Executive Search helps international companies find and recruit top talent to assume key roles in China.
Typical top management and executive positions are those of Managing Director, Country Manager, Plant Managers, Sales Director, and other senior positions in the administrative, commercial and operational areas.
Our research team has access to a large network of expatriates, with long term experience in working in China. In addition, we have access to a large pool of highly skilled local talent - Chinese candidates, with long-standing and extensive work experience in international companies.
Direct search in China is usually done in collaboration with our Shanghai-based partner company, as well as our senior advisory board.
In China, we mainly work with companies from the machine-building, automotive, healthcare and pharmaceutical, construction, and consumer goods sectors.
Additional information on executive search in China can be viewed in our newsletters.
You are interested in our HR and executive recruitment services in China? Contact us.
China Contact
Christian Tegethoff
Our Managing Director Christian Tegethoff is available to answer any questions you may have about executive search in China.
In cooperation with the CT Executive Search HR partner in Shanghai, he has handled numerous executive search mandates in China, for European, Chinese, and other international companies.
Senior Advisor
Henry Zhu, Shanghai
Henry Zhu is a member of the CT Executive Search Advisory board.
Thanks to his long standing experience in technology and executive search, Mr. Zhu provides invaluable insight into the recruitment of top talent into executive positions in China.
Henry has an extensive contact network in the international business community and a deep knowledge and understanding of the expectations that foreign companies place on local executives.
News from China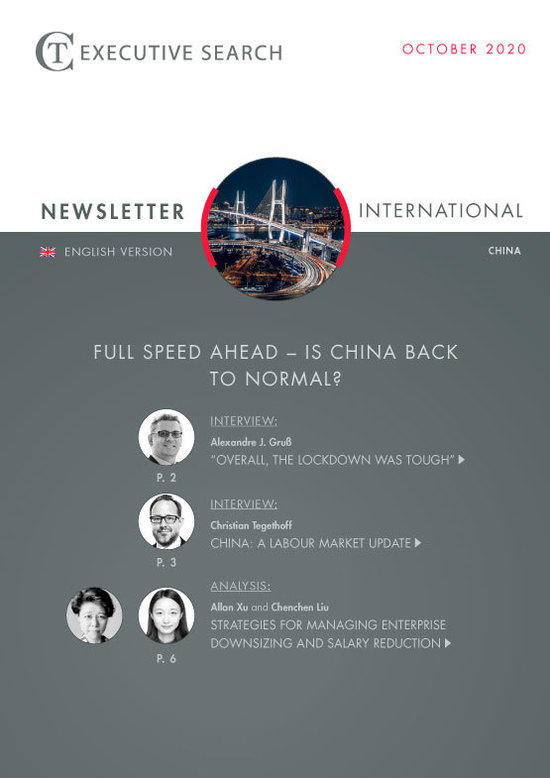 Issue October 2020
Full Spead Ahead - Is China back to Normal?
Interview: "Overall, the lockdown was tough"
Interview: China - A Labour Market Update
Analysis: Strategies for Managing Enterprise Downsizing and Salary Reduction