CT Executive Search Places Managers in China
China, the second largest economy in the world, has developed into one of the world's most important business locations for many international companies. The country is not only a major sales market, but also serves as an important production site for the supply of global markets. China has a developed supplier industry in practically all sectors as well as an experienced and well-trained work force, especially in the production segment.
Assigning Key Positions in China
CT Executive Search assists international companies with assigning their key positions in China. Typical positions are those of Managing Director, Country Manager, Plant Managers, Sales Director and other senior positions in the administrative, commercial and operational areas. Our research team can draw on a network among china-experienced expatriates, who are either currently living in China or willing to return to the country. In addition, we have access to Chinese candidates with long-standing work experience in international companies. Direct search in China is also supported by our partner companies in Shanghai.
In China, we mainly work for companies from the machine-building, automotive, healthcare, construction and consumer goods sectors.
Please find additional information on executive search in China in our newsletters.
You are interested in our services in China? Contact us.
News from China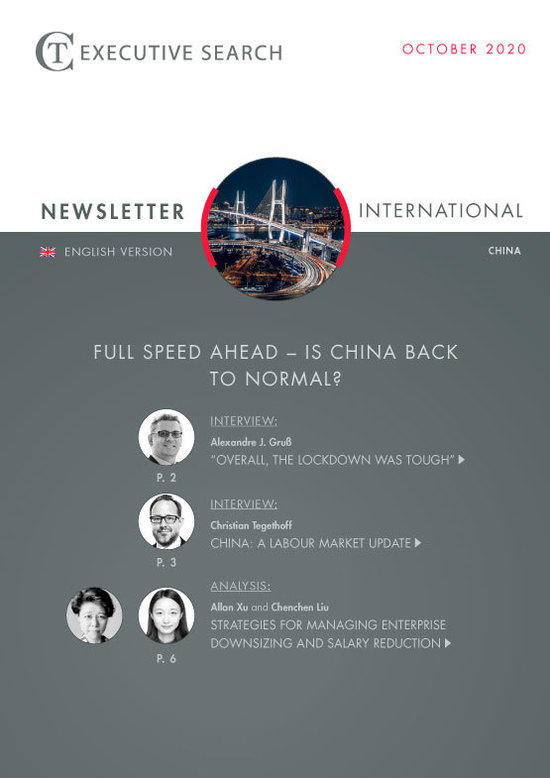 Issue October 2020
Full Spead Ahead - Is China back to Normal?
Interview: "Overall, the lockdown was tough"
Interview: China - A Labour Market Update
Analysis: Strategies for Managing Enterprise Downsizing and Salary Reduction