CT Executive Search
EXECUTIVE SEARCH EXPERTS IN EASTERN EUROPE, ASIA, THE MIDDLE EAST AND AFRICA
CT Executive Search specializes in management recruitment in Eastern Europe, Asia, the Middle East and Africa.
We find the ideal candidates for senior-level and executive jobs across the public and private sectors, as well as non-profit organizations.
Our team of highly qualified and experienced HR consultants, as well as a solid network of international partners, make sure that we meet the highest expectations of our executive search clients.
Our HR consultants use a structured and documented search process to ensure that only the best of the best are recruited to various top management positions of our executive search clients.
Our recruitment consultants are experts in handling cross-border executive search processes and know the qualities that candidates need to work successfully in international companies.
Multinational teams shape the talent acquisition process. In this way, we guarantee a candidate assessment that takes into account both the local and the international perspectives.
OUR CLIENTS
We have a diverse portfolio of clients across several industries and sectors, including: manufacturing, energy/oil &gas, retail and FMCG, IT & Telecomm, private equity, as well as professional services.
MANUFACTURING
CT Executive Search has extensive experience recruiting talent to production-related positions. One of our special competences is the recruitment of top talent for remote locations, for example, production sites located outside of Shanghai, Moscow, Tehran, etc. This requires a particularly thorough knowledge of the region and immense research skills, all of which our HR experts and a global network of partners and consultants posses.
ENERGY/ OIL&GAS
Our HR consultants work for companies from the energy/oil & gas sector, as well as for companies supplying this industry. These include EPC companies, manufacturers of technical components and oil & gas service providers.
FMCG/RETAIL
Our clients include international manufacturers of consumer goods, as well as companies from the FMCG industry. Positions we have recruited to include executive posts in sales, marketing, commerce and operations management.
PROFESSIONAL SERVICES/ PRIVATE EQUITY
Our executive search clients include: international law firms, consulting houses and audit firms. We also have extensive executive search experience in the private equity sector.
Newsletter Issue March 2021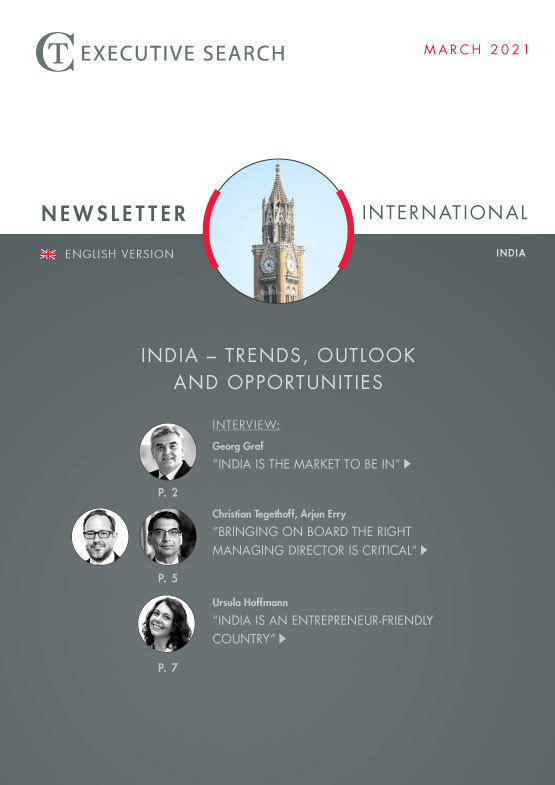 India - Trends, Outlook and Opportunities
Interview: "India is the market to be in"
Interview: "Bringing on board the right managing director is crucial"
Interview: "India is an entrepreneur-friendly country"