CT Executive Search
The Emerging Markets Experts
CT Executive Search specializes in management recruitment in Eastern Europe and the emerging markets. Our expertise is to identify the right candidates for senior international positions. We are relying on our own Moscow-based research capacities and an international network of partners and freelancer that covers the markets of Eastern Europe, Asia, Russia and the other countries of the Eurasian Economic Union as well as the Middle East and Africa.
Recruitment for Export-Related Positions
CT Executive Search also works at the international interfaces in the company headquarters. Within Europe, we identify candidates for export-related positions - foremost in sales and controlling. Regardless of whether we are recruiting Area Sales Managers, Country Controllers or Regional Sales Directors, we are able to leverage an extensive network of contacts in Europe and among the expatriate communities in Eastern Europe and the emerging markets.
Expatriate Recruitment Across the Emerging Markets
We also support companies from Russia, the Gulf Region and China with recruiting expatriates for assignments in the emerging markets, eg. managers or technical specialists.
This is what CT Executive Search is all about: We are experts in transnational and cross-cultural search, supporting companies in their activities by placing candidates into international key positions.
We are at Home in these Industries
CT Executive Search places executives into companies from different areas. Whether manufacturing, energy, retail or consumer goods, professional services or private equity - we are at home in all of these industries.
MANUFACTURING
CT Executive Search has extensive experience with assigning production-related positions. Production sites are often located outside of Shanghai, Moscow or Tehran - one of our special competences is recruitment for remote locations, which requires particularly thorough market knowledge and immense research capacity.
ENERGY
The CT consultants work for companies from the energy sector as well as for companies supplying this industry. These include EPC companies, manufacturers of technical components and oil&gas service providers.
RETAIL/CONSUMER GODS
Our clients include international manufacturers of consumer goods as well as companies from the electronic and stationary trade. We work assignments in sales and marketing and for commercial and administrative functions.
PROFESSIONAL SERVICES/ PRIVATE EQUITY
CT Executive Search assigns positions in international law firms, consulting houses and audit firms. In addition, we work mandates in the private equity sector.
Newsletter Issue December 2020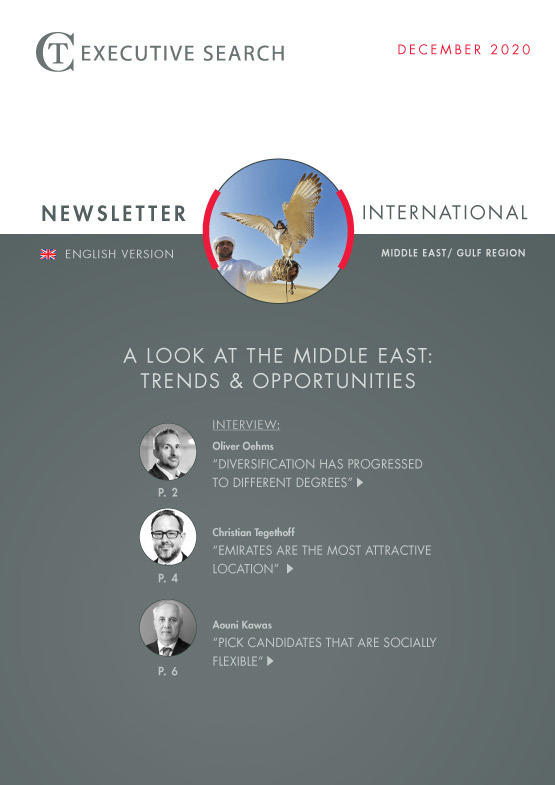 A Look at the Middle East: Trends & Opportunities
Interview: "Diversification has progressed to different degrees"
Interview: "Emirates are most attractive location"
Interview: "Pick candidates that are socially flexible"