CT Executive Search
EXECUTIVE SEARCH EXPERTS IN EASTERN EUROPE, ASIA AND THE MIDDLE EAST
CT Executive Search specializes in management recruitment in Eastern Europe, Asia and the Middle East.
We find the ideal candidates for senior-level and executive jobs across the public and private sectors, as well as non-profit organizations.
Our team of highly qualified and experienced HR consultants, as well as a solid network of international partners, make sure that we meet the highest expectations of our executive search clients.
Our HR consultants use a structured and documented search process to ensure that only the best of the best are recruited to various top management positions of our executive search clients.
Our recruitment consultants are experts in handling cross-border executive search processes and know the qualities that candidates need to work successfully in international companies.
Multinational teams shape the talent acquisition process. In this way, we guarantee a candidate assessment that takes into account both the local and the international perspectives.
OUR CLIENTS
We have a diverse portfolio of clients across several industries and sectors, including: manufacturing, energy/oil &gas, retail and FMCG, IT & Telecomm, private equity, as well as professional services.
Newsletter Issue August 2023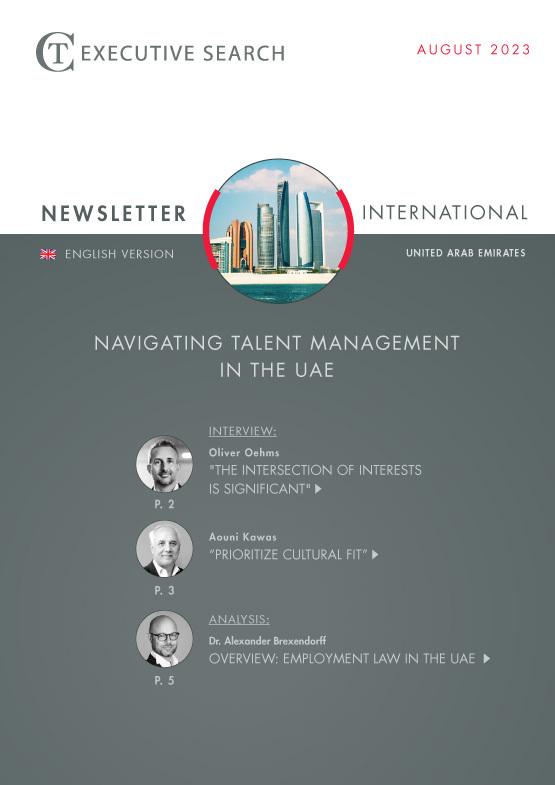 NAVIGATING TALENT MANAGEMENT IN THE UAE
Interview: "The intersection of interests is significant"
Interview: "Prioritize cultural fit"
Analysis: Overview: Employment Law in the UAE