Recruiting executives in Russia & CIS
Russia as well as the other successor states of the Soviet Union are particularly interesting for international companies as sales markets. The continuing need for modernization of the industry ensures a constant demand for investment goods. Due to the increased purchasing power in recent decades, Russia and Kazakhstan are also important consumer goods markets. Russia has also established itself as a production location in some industries, e.g. in the fields of automotive, food and healthcare.
CT Executive Search supports international companies by recruiting into senior positions in Russia, Belarus, Ukraine, Central Asia and the Transcaucasian Republics. Typical roles in this region are those of Managing Director, Representative, Sales Director, Plant Manager and Finance Director.
We also work for companies from Russia and other CIS countries interested in recruiting expatriates. These are usually senior technical specialists, but also managers to be employed at the international sales and financial interfaces.
Long-standing Experience in Various Industries in Russia / CIS / Ukraine
In Russia / CIS, we have been working in practically all industries and sectors. A certain focus lies on machine-building, automotive, consumer goods, construction, retail and healthcare. Our research team is centralized in Moscow and has access to candidates in all economically relevant regions of Russia and its neighboring countries.
Our newsletters provide additional information on executive search, expatriate matters and doing business in Russia and the neighbouring countries.
You are interested in executive search in Russia? Contact us.
News from Russia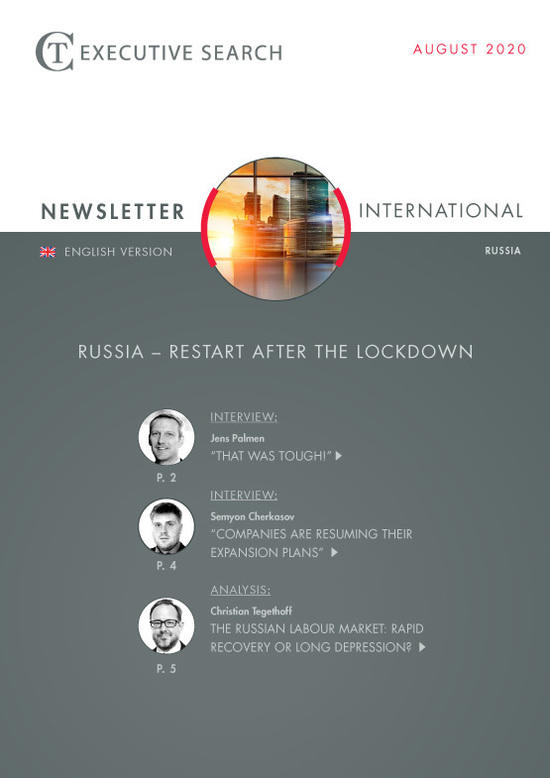 Issue August 2020
Russia - restart after the lockdown
Interview: "That was tough"
Interview: "Companies are resuming their expansion plans"
Analysis: The Russian labour market - rapid recovery or long depression?