The Emerging Markets are Our Business
CT Executive Search specializes in management recruitment in the emerging markets. We assist international companies with assigning their key positions in Asia, North Africa, the Gulf Region including Iran as well as in Russia and the other successor states of the Soviet Union, such as Ukraine, Kazakhstan and Uzbekistan.
We assign C-level positions in subsidiaries and representative offices in the emerging markets. Typical positions are those of Managing Director, Country Manager, Sales Director, CFO and Plant Manager. CT Executive Search works for pure sales organizations, but also for companies that maintain or establish a production site in the target country.
Our Moscow-based research team works with a stand-by network of experienced freelancers and local business consultants. These can be involved depending on the individual assignment.
Most of the positions we work report directly into European or American company headquarters. Our task is to place candidates who are qualified to work successfully in the respective target country while at the same time being able to integrate themselves in a multinational company with its specific requirements to compliance and reporting.
Emerging Markets: Cross-Industrial Approach
Our client structure varies depending on the target country. Most of our emerging market assignments are in the areas of machine building, EPC, construction, automotive, healthcare, energy and consumer goods.

Candidate Access and Research Capability
You are interested in senior recruitment in the emerging markets? Companies benefit from our executive search expertise and our direct access to local candidates in Russia / EE and the Middle East, including Iran. In addition, CT Executive Search has access to a large pool of expatriates who live and work in Asia, Russia/EAEU, Iran and other countries within the Middle East and North Africa.
Contact us if you are interested in these topics.
Emerging Markets Topics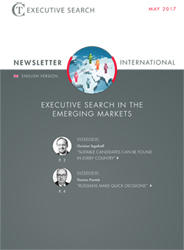 "Executive Search in the Emerging Markets"
INTERVIEW: "Suitable candidates can be found in every country"
INTERVIEW: "Russians make quick decisions"