CT Executive Search Recruits Managers in Africa
Africa is a continent with a wealth of natural resources and limitless business opportunities, if you have the right talent to work with.
Nigeria has Africa's biggest economy, followed by South Africa. Countries like Rwanda, Zambia, and Angola are also fast on the rise in terms of economic development. And countries such as Egypt, Kenya, Morocco, and Tunis have long been known as popular tourist destinations.
Africa is a continuing emerging market for many industries including IT, technology, agriculture, and e-commerce. Already, many multinational corporations have a well established presence on the African continent.
Local African companies such as Dangote Group, MTN, Glo, ShopRite have also gained international recognition, and many being listed on several stock exchange platforms.
Major economic sectors in countries such as Nigeria include oil and gas, construction, manufacturing, agriculture, consumer goods, pharmaceutical and chemical, as well as mining.
Numerous international non-government organisations also have a strong presence in various African countries.
 
Recruiting for Key Positions in Africa
Recruitment needs in Africa vary according to region and socio-economic situations.
Although many international companies still prefer to recruit expatriates to top management positions, they are beginning to recognise the fact many African countries have a substantial pool of highly skilled local candidates suitable for leadership positions in international companies.
Many African countries also have repatriates and ivy league trained local talent that is now also being recruited to top management positions by several international companies.
CT Executive Search works with a strong network of partners based in countries like Nigeria, South Africa, Angola, Morocco, Tunis, and Kenya when it comes to talent acquisition, executive, and expatriate recruitment in Africa.
In Africa we specialise in executive recruitment, recruitment of independent consultants, and members to Advisory Boards.
In Africa, we work with companies from the oil and gas, engineering, construction, consumer goods, pharmaceutical, and NGO sectors, among others.
If you are interested in executive recruitment in African countries, do not hesitate to Contact us.
Head of Africa Desk
Nina Anigbogu
Nina is a marketing professional with over 10 years' experience in marketing, PR, communications and business development in EMEA.
She coordinates our search activities in Africa and coordinates the local partnership network.
Prior to joining CT Executive Search, she worked with several consulting firms, PR agencies and business associations in Nigeria, Germany and Russia.
She holds a Bachelor of Pharmacy degree, an MBA from the People's Friendship University of Russia and post-graduate diplomas in digital marketing and brand management from the National Conservatory of Arts and Crafts in Paris, the European Institute of Communications in Dublin, and the University of Illinois at Urbana Champagne.
News from Africa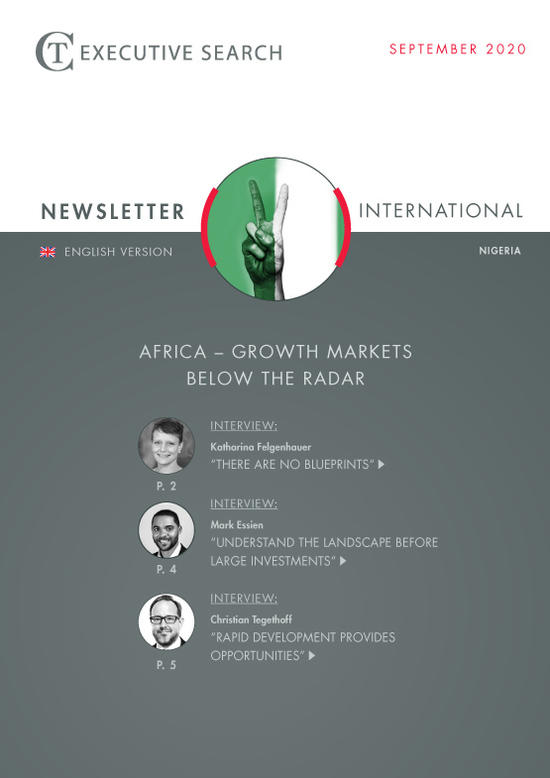 Issue September 2020
Interview: "There are no blueprints"
Interview: "Understand the landscape before large investments"
Interview: "Rapid development povides opportunities"